The Subway is another famous hike in Zion National Park. In fact, it is so popular that it is one of the hardest to get a permit for. If you are going to try and go on any weekend from June to August, you might want to have a backup plan….just in case.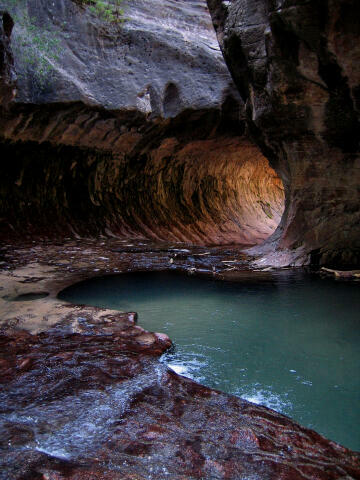 There are two ways that you can hike the Subway, bottom up or top down. If you are wanting to go from the bottom up, you can expect route finding, creek crossing, and climbing over boulders. If you go from the top down, you will need to bring 60 feet of rope and prepare to rappel. This route also requires swimming through several deep pools of cold water that is more often than not filled with debris. Either route is considered strenuous and takes between 5-9 hours to complete the 6.5 mile hike.
Before you start hiking up the canyon, a piece of advice is to take a look back, find the black volcanic outcropping that you can down from, and make a note of exit signs. There have been a lot of tired hikers that miss the exit and spent extra time trying to find their way out.
The descent into the canyon is quite steep. Once you start hiking the actual canyon, the trails are quite well used, but there are some older trails that have been blocked off with do not hike here signs. After some time on actual trails, you will have to get your feet wet. Don't avoid waste energy trying to stay dry….getting wet is inevitable!
About 2 miles in you start to notice the scenery changing into the beautiful canyon that you were expecting. There are several cascades and waterfalls that are a popular stopping point for admirers.
Stairway Cascades by Shane McDermott on 500px.com
After these falls and around a sharp turn to the south is the famous "Subway" tunnel that you see all the pictures of with its pipe-like tunnel and potholes that have been formed by water cutting through the canyon. This is the perfect spot to captures pictures of the emerald pools, like this one.
Fountain of Youth by D."Bodhi" Smith on 500px.com
This is a turn-around point for many hikers, but if you are willing to go a little farther you can see another waterfall and take a dip in some deeper pools. Either way, whether you turn around here or continue to the pools, you will eventually head back the way you came. Don't forget to get your picture of the famous North Pole!
Subway North Pole by Alexander Barber on flickr
Hiking the Subway in Zion National Park offers so much to those who embark on its trail. It is exciting, humbling, and provides majestic scenery to enjoy along the way. Make sure to take the time to truly experience the Subway, like the hikers in this video, and not just hike it.
https://www.zioncanyon.com/wp-content/uploads/2015/02/zion-canyon-logo-white-fnt.png
0
0
olwm
https://www.zioncanyon.com/wp-content/uploads/2015/02/zion-canyon-logo-white-fnt.png
olwm
2014-09-23 17:03:25
2020-02-10 14:13:18
The Subway in Zion National Park