Zion National Park Wildlife
What do you think when you are asked about the wildlife in Zion? We're willing to bet that you immediately think big horn sheep. They seem to be the animal that gets all of the attention as you don't see them a whole lot in other places.
Our friend Mark shot this great video of some bighorn sheep in Zion National Park. The shots are great and makes you wonder how close he really got when he was filming them.
But as we delve into the animals that roam around Zion you'll quickly see that there is a whole lot more going on there than just some sheep leisurely eating along the side of the road.

Photo Credit: Ed Coyle
Zion Wildlife
Often it takes going off the beaten path just a little bit to see them, but not always. Did you know there's a herd of elk that wanders through Zion? The last we saw them we were driving along Kolob Terrace road early this spring. It is always great to see animals like that in Zion, especially the more elusive ones like elk.
There's wild turkeys that roam around the park, and sometimes the parking lots and grass around the lodge. If you've been to Zion you'll know that there are lizards all along the trails, they seem quite curious and are some of the bolder animals you'll see in the park.
And if you're lucky you might get to catch a glimpse of the very illusive ringtail, with its beautiful tail, and big dark eyes. Or similarly illusive is the spotted owls that sometimes watch over you as you hike and wander through the park.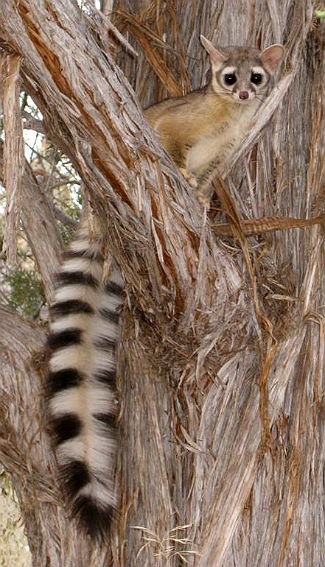 The mule deer are quite tame after living their whole lives in the park. Just a few weeks ago while hiking up Angels Landing to the top of the West Rim we ran into a handful of deer. They looked barely even bothered by our passing and in fact followed us for a bit.
Up higher in in the backcountry of Zion you might get to see the cougars that are often in the mountains of southern Utah. Don't be alarmed, cougar attacks are incredibly rare, but if you get a chance to see one you'll be amazed at how beautifully they move, they are impressive animals.
If you look a little lower just like the lizards you might see the red spotted toads that often hang around water, and on the trees.
The dangerous one that you definitely need to be aware of and careful with is the rattlesnake. They are indigenous in southern Utah, so you might run across one of them. If you do keep your distance, and leave it alone. These snakes have little desire to be near humans, and will quickly excuse themselves as they retreat into safer territory.
There are over 78 species of mammals alone, with an impressive 291 species of birds, 44 reptiles and amphibian species, and 8 species of fish. So we've just scratched the surface of the wildlife in Zion that you can encounter. And if you're looking for some perfect lodging in Zion to go check out the wildlife, then follow the link for Zion Ponderosa and you won't be disappointed.
Photo Credit: reibai on flickr
Rattlesnake Photo Credit: Brent Myers on flickr
Recommended For You
Here are a few links that will help in your Zion National Park trip planning!